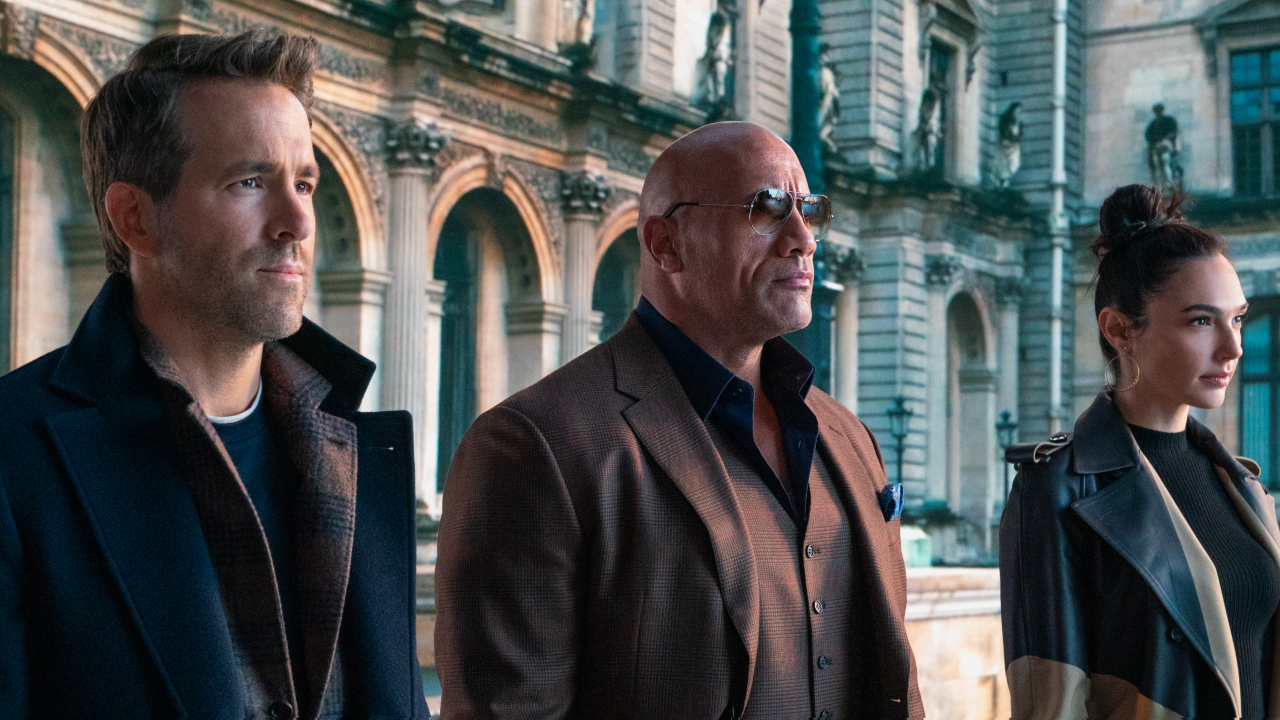 It's not that problem if films aren't made in Hollywood; it's just that they're so rare that you're not sure how to react when you see one. So, when one is watching the deadly cocktail of action, drama, and comedy, they are caught between whether or not to enjoy some mindless-yet-larger-than-life characters, did play by some of Hollywood's biggest stars, indulge in some pretty amazingly synchronised fight sequences, power-packed action scenes, intense drama, and, of course, passionate love scenes.
One such film is Netflix's upcoming thriller 'Red Notice,' which will undoubtedly be a great visual experience if one were to left their brains at home for this one. There's no purpose in using it because there's very little depth or concepts in the story. In fact, there are times when one could question if Rawson Marshall Thurber was more concerned with making the three primary actors, Dwayne 'The Rock' Johnson, Gal Gadot, and Ryan Reynolds, play virtually superhuman versions of themselves, than with developing a plot.
The Plot of Story vs The Star
As previously stated, the plot is rather straightforward. The FBI's top profiler John Hartley (Dwayne Johnson), on a quest to arrest the world's most 'wanted' art thief, stumbles across the world's greatest art thief, Nolan Booth, after an Interpol-issued Red Notice — the highest-level warrant to pursue and apprehend the world's most sought— goes out (Ryan Reynolds). However, after Hartley is jailed by Interpol for supposedly supporting Booth in the crime, he is compelled to work alongside Booth to track down 'The Bishop' (Gal Gadot), who is both the world's most wanted and greatest art thief.
The audience then joins these three larger-than-life characters on a series of high-flying adventures that take them across four countries. The banter between Booth and Hartley is a trope that has been used in countless buddy films, where the two male actors have different personalities but come together to achieve their mission. Though fresh and extremely funny (largely thanks to Reynolds' impeccable comic timing), it is a trope that has been used in innumerable buddy films, where the two male characters have different personalities but come together to achieve their mission.
And if the cliches weren't enough, there's a strong female character who keeps the two male characters on their toes the entire time, proving that she is superior to them. Gal Gadot, of course, is flawless in the role of 'Bishop.' The fight sequence in the middle of the film, in which Bishop single-handedly and successfully puts both Booth and Hartley in handcuffs after an intense fighting sequence in a two-vs-one situation, demonstrates how director Rawson Marshall Thurber was more concerned with getting a result from star power and old worn-out cliches than with creating a story line.
While marveling at these Hollywood stars and their chemistry throughout the film's runtime, one can't help but ponder how much better it could have been if just a little more thought had gone into developing a plot that would have put their incredible abilities into context. The exchange between Booth and Hartley, in which Booth recounts a horrific childhood experience, is one of those rare times in which the characters become more humanized, and the audience becomes more invested in their lives.
There's enough star power, action, comedy, and drama to keep you entertained, and because it's an OTT release, it could end up being one of those films that has a wonderful start but fades from memory over time. So, wait for the time until you can watch the movie on the streaming site, such as 123Movies.